I've
mentioned before
that my husband and I are, well, resistant, when it comes to mandated celebrations of love. Don't get me wrong, we love love. We just don't love being told what to do. But wouldn't it be a shame to let spite turn me into a Valentine's Grinch? It's an annual conundrum.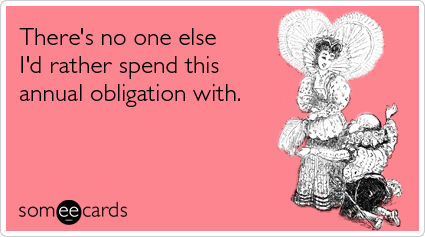 So I asked the Mama Said mamas how they celebrate Valentine's Day. Do they manage to create genuine displays of love in the midst of mass marketing? Treat it like any other day? Take the traditional track? And what would make them feel truly loved and not just checked off the to-do list on February 14? Their answers inspired me to give a little love.
"I want to hate Valentine's Day. I do. But I can't help that I kind of like it. We never do anything fancy. In fact, sometimes we don't do anything. I try not to be disappointed if this happens; I never make a big deal of it either. Sometimes, Charlie surprises me with flowers, and they are always the "run to Kroger and pick up a bouquet on the way home from work" flowers. That sounds lame, but I know he means well, and I am always really excited when he does this. It may not be entirely thought out, and it's always last minute, but he always writes a simple "Love you" or something else sweet, and that is usually what means the most. Now that we have two girls, I love picking out special treats and cards for them. I will probably always do this. I remember times in high school or even college that the only Valentine I received was from my parents, and I always felt loved.
I always, always, always want my children to feel loved and cherished.
That said, I try to do and say things everyday to make my children feel loved, and most of my actions don't involve buying items for them. I probably should try harder to make my husband feel as loved as I do my children!" ~ Rachel Hall
"
We always make a cake or cookies, some baked good from scratch for Daddy.
I don't appreciate that flowers go up 300% for that day. I'd rather a cheap bouquet from Kroger any other day of the year! I do like to get my girls a little treat bag or something small just because. And stick them in hair bows and tutus, because its an excuse to make them!" ~ Anika Sloan
"I'm not a fan. I enjoyed it as a teenager and while we were in the dating phase. Valentine's day doesn't have any meaning for our relationship. We enjoy celebrating our anniversary. My spouse is a physical touch and words of affirmation guy. (
If you haven't read The 5 Love Languages, do your relationship a favor and read it.
) He enjoys letters that state how much he means to me. The physical touch should be self explanatory.
If I did receive a gift, I would want something practical or something I've had my eye on. If we are being specific to this year, I have been wanting a gym membership or the new T25 or P90x3. An appointment at the spa would be wonderful. We will do something with the kids. It won't be huge. A special dessert maybe and a small gift." ~ Melissa Blount
"At home, Valentine's Day consists of Alexandra receiving a card and usually a gift card. Brad and I exchange cards and a small gift. He usually gets me flowers too. We have dinner out (the three of us). But this year, he and I are having a couples massage. I will let you know after if it is a good idea. At school, we do the traditional Valentine card exchange and have some sweets.
Because Valentine's Day usually coincides with 100 days of school, my class also does 100 random acts of kindness each year.
We make and send cards to veterans and residents of Gary Nursing Home. We collect pennies to donate to the animal shelter or if I catch someone being kind or caring, we add it to our list. I keep a large chart hanging on the wall and as something happens I write it on the chart. Parents can also send me an email or note to tell me if they have caught their child doing something kind or caring. The kids really get into achieving a goal and they beam with joy knowing they have helped." ~ Bobbi Jo Hatfield
"Over the years (this will be our 13th V-Day together), we have celebrated in different ways. Our first Valentine's Day together, I was 14 years old. I caught mononucleosis from my brother and it caused my spleen to rupture; I spent five days in the ICU and was finally able to come home the day before Valentine's Day. I was put on home bound and told to take it easy. Well, between sitting on the couch at my house or on the couch at my boyfriends house, the 14-year-old me chose my boyfriend's. When I walked in, I saw the most beautiful two dozen red roses I'd ever seen in my life, the velvet red teddy bear and yummy chocolates. Because this was our first Valentines day together, I will always remember it like it was yesterday.
As the years passed, I don't really remember what we did to celebrate, probably the typical, steak dinner and a movie out, and Josh always buys me roses, but thankfully I've gotten him to understand that if he spends $50-$75 for flowers that are going to die in a week from a florist again, I will kill him. He's eased up and started going to Kroger for the cheaper flowers. (I'm very budget minded.)
When when Landon was two, I woke up Valentine's Day morning to the smell of bacon. Josh had gotten up with Landon and turned off the monitor and they made me pink chocolate chip pancakes and bacon and brought it to me in bed. This is the ONLY time my husband has ever cooked. He's good at many things but he's never learned to cook. The pancakes were cold but good and the bacon was the perfect crispiness. This is the second Valentine's Day that I will always remember. The fact that my husband who doesn't cook, anything, ever, spent two hours that morning figuring out how to make pancakes and bacon meant more to me than anything I could have ever asked for.
On Valentine's Day 2010, it was two and a half months after we had our second trimester miscarriage. We were trying to grieve and I was trying to work through all the hormonal changes. We went to Longhorn to have Valentine's Day dinner and ran into a woman that we hadn't seen in many months. Seeing that I obviously wasn't nine months pregnant, she said, "Oh Heather, did you have the baby?" She didn't know. I broke down in tears and I couldn't eat. We left. The next morning, I found out I was pregnant with Liam! So, that's a third Valentine's Day that's special to me! It seems sad, but looking back, it's not sad. It's joyous.

Over the years, I have done little things for Josh, like back rubs. One year I gave him a box with 50 reasons why I loved him, written on little pieces of paper. I'm thinking I need to do that gift again because I'm sure the reasons why I love him are much different now than they were ten years ago. It'd probably be fun to compare them. Of course, every few V-Days I try to make a stop into Victoria's Secret for something new.

We always get the kids a little goodie or two. Maybe a little toy and a chocolate to show our love for them and we also usually have a good meal (grilled steaks or homemade lasagna) cooked from home most of the time. It's more cost efficient.

But over all, there have been a few times when Josh really knocked it out of the park (I feel funny saying "nailed it.") But I think as we grow in our marriage and as a family, what we consider "knocking it out of the park" or "nailing it" changes. I definitely prefer pure, from the heart gestures over an expensive vase of flowers, although I do love cards. I like what he writes in them more than the cards themselves." ~ Heather Smith
"As a couple, we have never been big on Valentine's Day. And the last place you want to be in Charlotte on the day of love is a restaurant. However,
I will usually cook some of our favorite meals or we will get some take out.
Now that we have Conley, we get her a little something and she and I will make cookies." ~ Sosha Lewis
"We don't really make a huge deal out of Valentine's Day. Kevin will usually get Palyn and me a bouquet of flowers from a local florist, and we exchange cards. A few years ago, we started a pizza tradition. With the kids, we try our best to make a heart shaped pizza! And I usually make Bailey his favorite, pasta salad, using heart shaped noodles.
The kids really enjoy making and decorating the pizza, so we turn the music up and have a good time.
We always buy the kids a little Valentine treat as well." ~ Nikki Goodson
"Derek always gets me roses from a local florist that makes beautiful and creative arrangements. I look forward to seeing what they have put together for me every year.
Sometimes we go somewhere by ourselves just for the night.
We've even squeezed in a night away from home only an hour away. It was nice to go to a different restaurant for dinner and stay the night in a nice hotel by ourselves without having all
of the travel time. They usually run Valentine's specials with champagne and flowers included. Derek has this thing with planning trips. He enjoys getting good deals.
He always gets Madisen something too. He usually gets Bath and Body Works gifts baskets for both of us. This year she will get an inexpensive Pandora heart charm for her bracelet.
We also find nice sappy cards for each other. We take a lot of pride on finding a good one. Madisen even gets into it. Derek had to convince me of the value of a nice card. I'm sold now that I see all of the thought that goes into it. I also thought it was a waste to get flowers that only last for a few days, but I see the value there now too. Its nice to get flowers once a year! Mother's Day and Father's Day are reserved for outdoor plants we want from the fancy nursery. He likes plants too. Derek's parents are the same way with holidays. His parents send us thoughtful cards for every holiday with a sweet note inside, even Thanksgiving. It helps that he is on board. I'm not used to doing things that aren't all about Madisen, so it's nice that he takes the initiative. All in all, we we enjoy cheesy commercial holidays. Hallmark loves us." ~ Carrie F.
About the Mamas
Rachel Hall
is a Christian mom who enjoys living an eco-friendly lifestyle. She has two amazing daughters, Faithanna and Lily. She married her husband, Charlie, almost seven years ago and shortly after the wedding, they sold most of their belongings (including a house) and moved to Hilo, Hawaii. They came back to West Virginia to raise their children here.
Rachel works from home so she can be with her kids. She is an an independent consultant and director for
Thirty-One Gifts
, where she helps people find solutions that organize and simplify their lives and inspires other women to make extra income on their own time. She graduated from West Virginia University in 2005 with a BS in Journalism.
Anika Layne Sloan
is originally from Ravenswood, West Virginia. She is the mother of Kahlan Avery and Lorelei Madison. Her husband, Rob, is a Captain on the Charleston Fire Department and Navigator for the West Vriginia Air National Guard. Anika graduated from the University of West Florida with a BA in Psychology in 2006, then a Master of Science in Community Health Education in 2008. She is currently enlisted with the West Virginia Air National Guard and works there in Base Education and Training.
Melissa Blount
is a stay-at-home mother of two and has been married for twelve years to her college sweetheart. She has a degree in accounting. After college, she spent a year just outside of Atlanta, then moved to southern Maryland, and finally landed in the Kanawha Valley nine years ago.
She enjoys working out and baking cupcakes and prefers to spend any free time she might have after taking care of kids, housework, and errands reading outside, shopping or visiting with friends.
Bobbi Hatfield
is a single mom to 15-year-old Alexandria and has been in a bi-racial relationship for eleven years. Her boyfriend, Brad, has two children, Shanna and Josh, whom she considers her own. She is a first grade teacher with a Bachelor of Science in Early Childhood Education and Elementary Education with a specialization in grades 5-9 Social Studies and is currently working on a Master's Degree in Human Geography.
Heather Smith
has been married to her husband, Josh, for twelve years. She has two sons, Landon and Liam. She has worked with children since she was 17 years old. As a photographer and owner of
Heather Smith Photography
, she captures priceless memories for families in the Kanawha Valley and beyond. She also blogs about her families adventures in homeschooling at
Busy Boys Homeschool
.
Sosha Lewis
is a stay-at-home mom and writer in Charlotte, North Carolina. She writes about breaking the cycle of addiction while keeping a sense of humor in-tact at
It's Not Sasha
.
Sosha and her husband, Tony, have one daughter, Conley. Before having her daughter, Sosha was a corporate event planner for Grandbridge Real Estate and an editor for Business Wire. She is an avid reader and one of her favorite places in the world is a cold, dark movie theater. She is a graduate of West Virginia University and a Mountain Mama for life.
Nikki Goodson
grew up in southern West Virginia in a large and close-knit family. She attended High Point University in North Carolina where she received a degree in Elementary Education. After graduation, she returned home to be close to her family and marry her high school sweetheart. She was a teacher and librarian for eight years in grades Pre-K-5. She also enjoys being an Independent Consultant for
Scentsy
, a company that offers a safe, wickless alternative to scented candles.
Carrie F
. lives in Huntington, West Virginia with her husband and 17-year-old daughter and their three dogs. They spend a lot of time at sporting events, the park, and with her family on the Elk River. She loves crafting and making something out of nothing. Discarded items from nature and people from the past are her favorite forms of media. She also loves to paint. Some of her beautiful and functional pieces are available on
Etsy
.